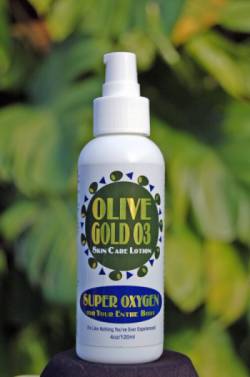 Olive Gold 03™ is a perfect proprietary blend of SUPER OXYGEN, in an all natural organic olive oil base, with super-charged vitamins (A, B's, C, D, & E), 72 minerals, alpha-lipoic acid, and exotic botanical essence. Olive Gold 03 inherently is hypoallergenic. Nothing harmful to humans or animals can live in it. Contains NO: corn, sugar, soy, starch, wheat, yeast, preservatives, synthetics, or GMO derived sources known.
FOR YOUR HEALTH:
• Neutralizes toxins, bacteria, viruses, fungus and chemicals
• Enriches brain function for alertness and mental clarity
• Delivers more energy to muscles, optimizing performance
• Enhances metabolism for better digestion and detoxification
• Increased assimilation of nutrition

FOR YOUR SKIN:
Smooth fine lines and wrinkles
• Adds texture to the skin
• Assists in the production of collagen
• Protects, nourishes and moisturizes
• May help resolve a variety of skin related issues
• Provides a reserve of oxygen to help reverse aging
• Never clogs pores. It is not oily, greasy, or sticky

I myself have used Olive Gold for many skin conditions and for healing purposes with great results. Olive Gold 03™ has no known side effects and little to no healing reaction. There is no known interference with prescription medication. Olive Gold 03™ stays fresh for at least 2 years in the original container.
.27 oz. $7 .50 oz. $12 2 oz. $28