Free Massages using your Auto Insurance!
I am now able to provide free massages for your injuries that were caused by a car accident using your auto insurance, no-fault insurance. Yep, in the state of Michigan, your auto insurance covers massage. For more information and what is required to get coverage started, go to the Auto Accident Injury Coverage page. NOTE: NOT ACCEPTING AAA Auto Insurance

Advancing my Lymphatic Drainage training
I have just completed training in Advance Lymphatic Drainage. A Lymphatic Drainage session helps the Lymph system do what it does better – help the body process and eliminate metabolic waste sometimes called "toxins". If you have swelling after surgery, illness, injury or even after a long plane flight this may be the therapy for you!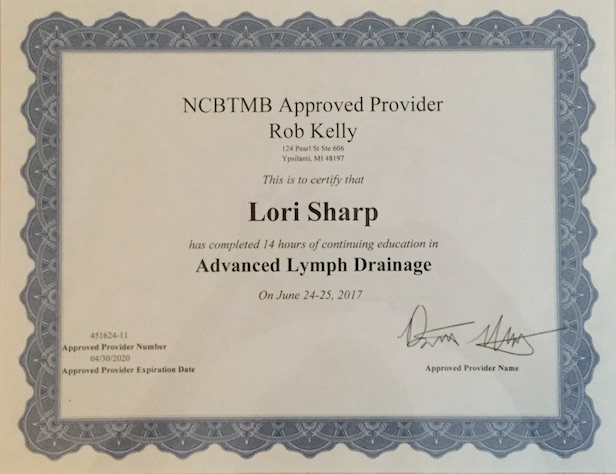 Now offering Reiki Therapy
Reiki Therapy is a light touch therapy that has been around as a trained and practiced modality since the early 1900s but it is said that the origin of Reiki has been around thousands of years. It can be performed on anyone at any time since it is non-invasive and is a treatment that helps your body heal itself with the assistance of the Reiki energy. Reiki is accepted as a legitimate therapy by medical and holistic practitioners around the world. Most hospitals offer it as a pre- and post-operative treatment for reduction of anxiety and enhanced healing times.